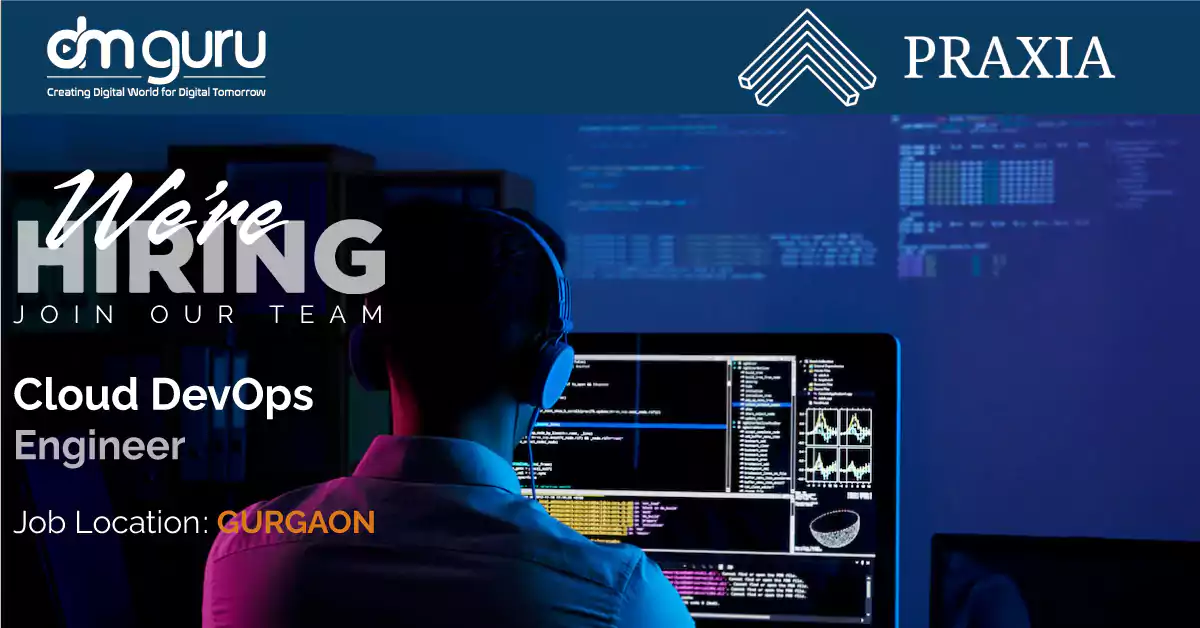 | | | |
| --- | --- | --- |
| Profile | : | Cloud DevOps Engineer |
| Job Location | : | Gurgaon |
| Hiring Company | : | Praxia |
About Company:
Praxia is a tech-enabled indirect spend aggregator that acts as a one stop shop to businesses for all their indirect spend needs such as laptops, office and warehouse supplies, packaging etc.
On the platform, businesses utilise their combined purchasing power across categories to get better pricing, access to credit and convenience of a single supplier (Praxia). On the other hand, strategic sourcing enables vendors to maximise earnings, rotate inventory and extend their business line.
The long-term vision is to become the one stop shop to businesses by improving the customer purchase experience across indirect spend categories.
The founding team is IIM Ahmedabad and FMS Delhi alumni, and have worked in organisations such as PwC, Unilever, OfBusiness, UC & Amazon. The business has seen early traction, and is growing at 60% month on month.
Responsibilities
Production experience of managing Kubernetes.
Hands-on experience with Load Balancing and Failover Cluster Setup.
Design, Build and maintain the CI/CD infrastructure and tools like Jenkins, Azure / AWS Devops.
Measure and monitor progress to ensure application releases are delivered on time.
Manage risks and resolve issues that affect release scope, schedule and quality.
Co-ordinate with multiple teams ensuring smooth progress in the deployment.
VSTS administration; support and maintain version control.
Design, document, implement, and maintain scripts to enhance current build/release processes.
Experience in scripting languages like Shell, PowerShell, Bash, python, ansible, terraform.
Good experience working on agile methodology.
Hands on Experience on Cloud Environment, AWS / Azure / GCP.
ToolSet
Hands on experience with standard DevOps tools used for configuration management (Ansible), release engineering tools (Azure DevOps, Jenkins, Gitlab runner, GitHub actions , etc.), revision control (Git), issue tracking (Jira, etc.), and monitoring (Prometheus, Grafana, Loki, EFK, Nagios, Splunk).
Linux and Windows experience.
Web application deployment (Nginx, Apache Tomcat, IIS).
Familiarity with l databases such as Postgress. Cassandra, MongoDB, MySQL, and MSSQL. 5. Experience with containerized services (Docker, Kubernetes).
Experience with storage systems like AWS S3, Glacier, Azure Blob.
Secrets management (Like Azure Key vault).
Debugging knowledge of application development (Python,, C#, .Net, Java, Angular, Node, etc.). 9. Good to have AWS or Azure or GCP Certification.
Experience Required
Experience in Linux/Unix or shell/bash or PowerShel scripting.
Experience in automation/configuration management tools like Git, Jenkin, Azure DevOps. 3. Experience with managing Redis, RabbitMQ, NATS, Kafka.
Experience with Monitoring tools like Prometheus, Grafana, Loki, EFK, Nagios. 5. Knowledge of an agile team environment and process.
IIS Management / Optimization.
WebServer Maintenance / Optimization / Monitoring.
Build and Release Automation.
Experience with databases such as Postgress. Cassandra, MongoDB, MySQL, and MSSQL.
Serverless services deployment.
Experience in the entire software product life cycle: Development, QE and Release management. 12. Strong analytical, troubleshooting and organisational skills.
Good oral and written communication skills.
Demonstrated ability working in a fast pace software development environment.
Contact Details

Name
:
Archit Saroha
Contact
:
+91-9027101873
Website
:
praxiatech.com