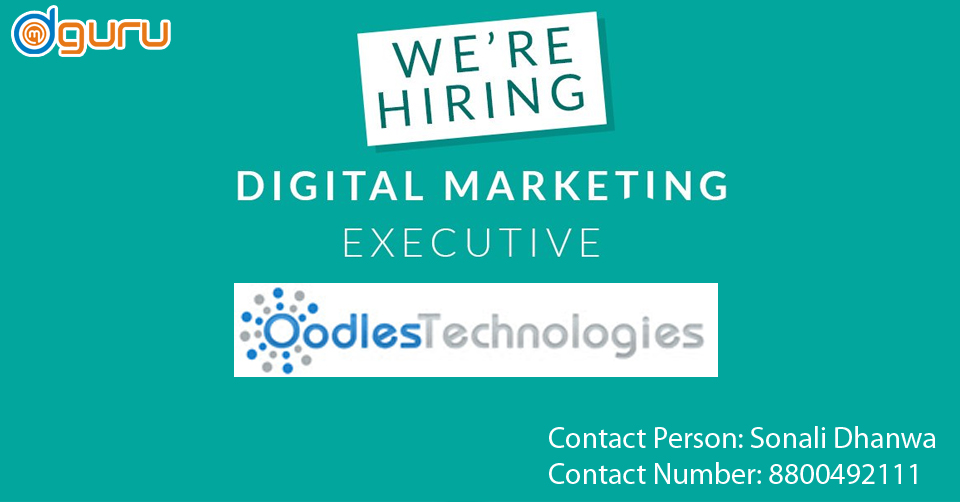 Job Profile: DM Executive
Organization: Oodles Technologies
Oodles Technologies is an offshore software development company with a focus on state-of-the-art technologies. We have our niche in awe-inspiring domains like Blockchain, Machine Learning, Artificial Intelligence, ERP, Big Data and Live Video Streaming. We keep close tabs on the latest trends and technologies and with our highly skilled team of developers, we deliver end-to-end development solutions at the best market rates.
CTC Offered: 2.2 LPA.
Job Description
– 0-1 years of digital marketing experience, preferably in a technology organization or agency.
– Expertise in SEO, including keyword research, ranking factors, backlinks, etc.
– Experience with Social Media, Sponsored content, Retargeting, Display campaigns
– Experience with web analytics platforms (GA, Omniture, WebTrends, or Heap Analytics)
– Significant experience in digital marketing campaign planning and management
– Ability to manage multiple tasks with little to moderate direction
– Track record of delivering quality work on time
Desired Candidate Profile
– Planning, execution & optimization of our Digital marketing efforts.
– Be actively involved in SEO efforts (keyword, image optimization etc.)
– Article submission, blog posting, press release submission, directory submission, social media marketing, classified submission, image optimization, video submission, business directory submission etc.
– Keyword research, website structure & interlinking architecture optimization.
– Administer search engine programs (XML sitemaps, Google analytics, webmaster tools, Google search console, keyword tools) for purposes of diagnostic reporting on projects.
– Recommend changes to website architecture, linking and other factors to improve SEO positions for target keywords.
– Grows and expands company social media presence into new social media platforms, plus increase presence on existing platforms including Facebook, LinkedIn, Twitter, and Instagram.
– Launch optimized online adverts through Google Adwords, Facebook Ads etc. to increase company and brand awareness.
– Manage campaign expenses, estimate monthly costs and achieve maximum ROI from spending.
– Provide creative ideas for content marketing and update website.
– Measure the performance of digital marketing efforts using a variety of Web analytics tools (Google Analytics, WebTrends etc.)
– Copywriting skills to ensure a quick turnaround with web changes, social media requests, and campaigns when required.
– Acquire insight into online marketing trends and keep strategies up-to-date
Promotion of Client products and services through digital channels.
– Define target keyword lists, optimize existing content and collaborate with content and web developers to implement ongoing initiatives.
– Perform technical SEO Audits of client websites
Digital Marketing Job at Oodles Technologies Gurgaon
Click Here for More Jobs in Digital Marketing - SEO SMO PPC Google Adwords Wordpress