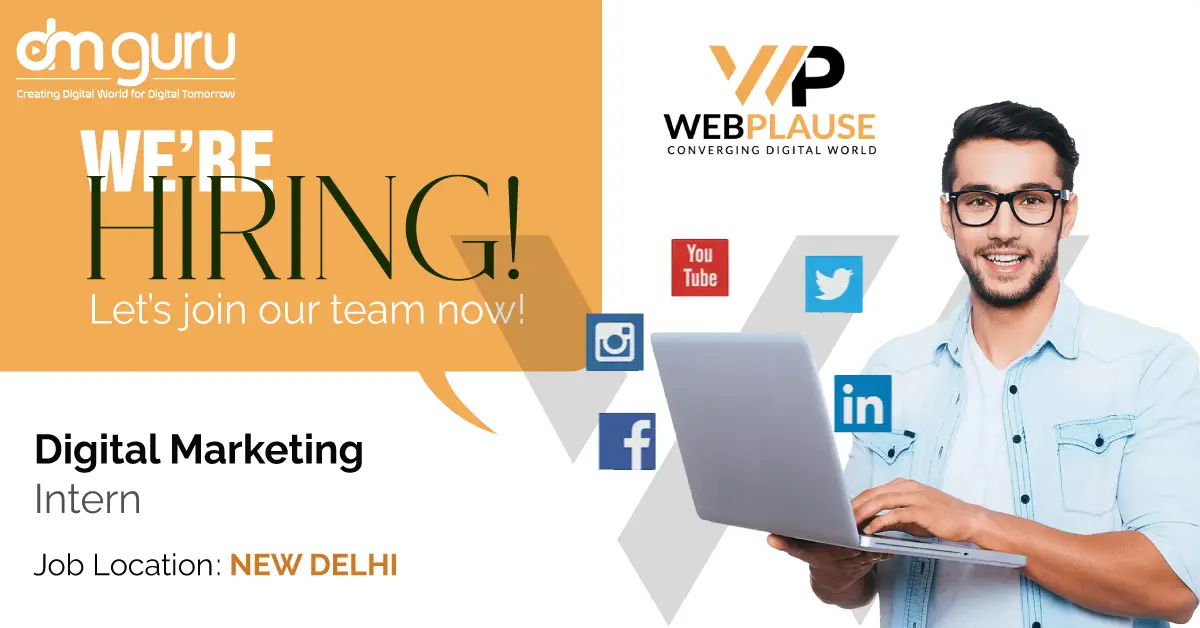 | | | |
| --- | --- | --- |
| Profile | : | Digital Marketing Intern |
| Job Location | : | Pratibha Tower, Unit 202, Plot no 8, Ashok Marg, South City 1, Sector 41, Gurugram,Haryana |
| Hiring Company | : | Webplause Technology |
| Stipend | : | 6-8 k/Month |
| No of Opening | : | 5 |
| Duration | : | 3 Months with monthly stipend |
Company Profile::-
Webplause is an organization formed by industry veterans who have combined experience of more than 10 Years in Digital Marketing & Product Development of Web based applications. Webplause is an emerging Start-up in the field of digital marketing and web design. We have witnessed the transformation of the Digital Marketing era from the beginning and how businesses & their customer interaction have been digitalized.
Duties & Responsibilities:-
Digital Marketing Interns are responsible for supporting the WSI team in daily activities. Examples of duties and responsibilities include:
Assist with social media campaigns
Assist with email campaigns
Assist with search engine optimization
Assist with web development projects
Produce and proofread website content
Collect and report data from marketing campaigns
Track keyword rankings
Attend client meetings
Manage and update company database
Design and produce sales materials
Complete other administrative tasks as needed
Skills and Qualifications:-
A successful Digital Marketing Intern needs various skills and qualifications to perform the required duties of their role. Essential skills for this position include the following:
Current enrollment in a bachelor's degree program
Training experience a plus but not required
Computer skills
Strong verbal and written communication skills
Proficiency with word processing, spreadsheet and presentation software
Ability to quickly learn and process information
Organization and time management skills
Strong desire to learn along with professional drive
Solid understanding of different marketing techniques
Familiarity with CRM tools, Online analytics, and Google Adwords
Passion for the digital marketing industry and its best practices
Note:-
In this collaborative, entry-level role, you will get a chance to learn important skills and gain professional experience by working on digital marketing campaigns with our team. Our ideal intern candidate has a fundamental understanding of digital marketing best practices. Applicants should be current students in a bachelor's degree program.
Contact Details

Name
:
Amit Kumar
Contact
:
08368642017
Website
:
https://webplause.com/
Email:
:
Email: hr@webplause.com