Hiring for Multiple Positions in Digital Marketing at Vidyakul Gurgaon | 04-12-2023 Update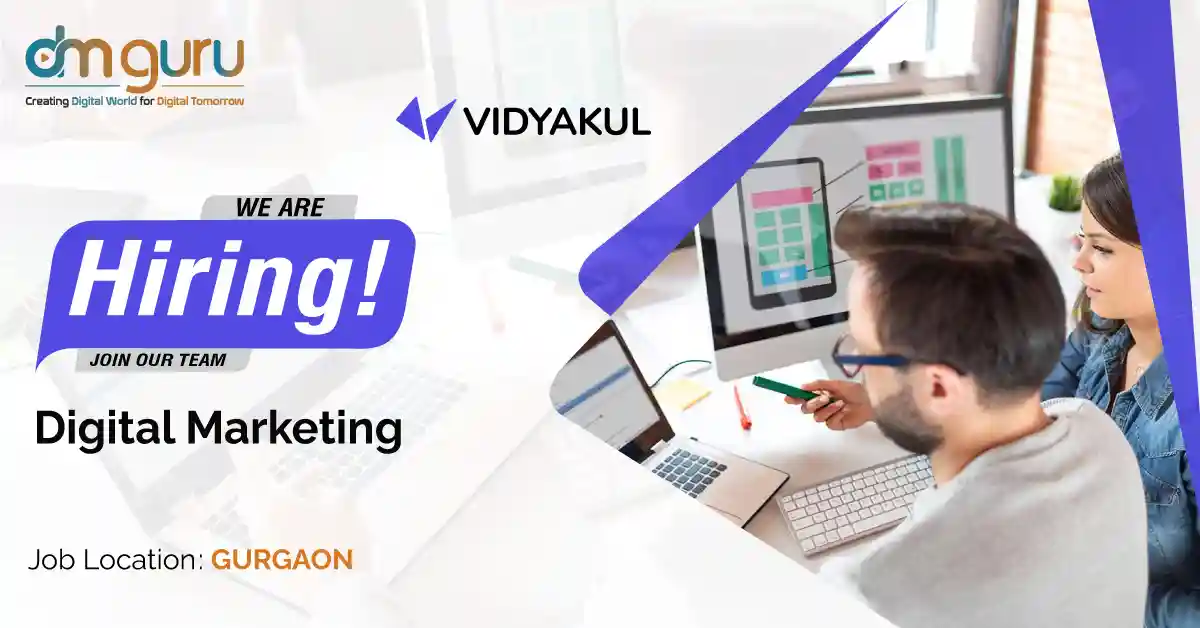 | | | |
| --- | --- | --- |
| Profile | : | Multiple Positions in Digital Marketing |
| Hiring Company | : | Vidyakul |
| Job Location | : | Gurgaon |
Role
Youtube SEO = 2
App Store Optimisation(ASO) + Search Engine Optimisation (SEO) = 2
SMO Role - 2
Why Should You Join Us?
At Vidyakul, you will have the opportunity to impact 60 million state board students' lives by growing India's first truly vernacular e-learning platform for 9-12 class state board students.
Who are We and What is Our Mission?
Vidyakul is a pre-Series A funded EdTech startup based out of Gurgaon, that is truly democratizing education for the masses.
Our Investors:
We Founder Circle - Backed marquee brands such as BluSmart & Zypp Electric
JITO Angel Network - Backed Finance Peer, largest lender of EdTech
Dholakia Ventures - Backed by the Diamond King of Surat
Our Founders:
Tarun Saini - 3X founder, 8 years experience in Sales & Marketing
Raman Garg - 3X founder, 7 years experience in Ecommerce and Tech
We are bridging the gap between the villages and quality education at an affordable cost.
We are growing fast (3X Q-o-Q) and wish for you to be part of this rocketship!
Youtube SEO = 2
Responsibilities
Below are some of the responsibilities a YouTube SEO is expected to assume in their position:
Monitor the traffic and other key metrics of YouTube channels though YouTube Studios. Document it and do data analysis to keep track of the channel's performance.
Managing YouTube channels as per the set process.
Optimize and Write in keyword-optimized title, description, and tags
Collaborate with teams to draw meaningful conclusions from the channel's data and identify potential opportunities for improvement.
Monitor the developments, timelines, and results with respect to the YouTube Channels.
Build strategies to help achieve better reach and engagement on YouTube Channels.
Facilitate User Acquisition (Subscribers and Views) through SEO
Understand everything about YouTube, meaning thumbnail, title, description, SEO, understanding of content, etc.
Manage Youtube campaigns, Should upload videos to youtube channel with proper metadata ( Both in Hindi and english )
App Store Optimisation(ASO) + Search Engine Optimisation (SEO) = 2
Job Overview
We are looking for a SEO and ASO Specialist who must be willing to keep abreast of industry innovations and trends. A good SEO / ASO Specialist values quality content as well as technical insight to optimize the website for search engines.
You will be responsible for executing all SEO strategies and Content postings on Forums, Review sites, Blogs, and social sites. Article Submission, Social Bookmarking, Press Release Submissions etc.
ASO/SEO Specialist Responsibilities:
Analyzing and Managing traffic growth. Strong background in cracking Search Algorithms and keywords marketing specialize in Dynamic Pages Optimization, and Web analytics.
Ability to show competitive keyword ranking on Search engines On-page & off-page strategies with Optimization.
Performing Keyword Research, Competition Analysis, Keyword Rank reporting etc .
Undertake the different Link Building activities such as classified listing, Business Listing, Social Media Promotions etc
Developing App Store Optimization (ASO) strategies to ensure that all relevant apps appear at the top of the search results in all applicable App stores
Optimizing conversion rates for app download pages by utilizing various content and visual tools
Monitoring and tracking app store rankings using the latest analytic tracking tools
Performing keyword research in multiple languages
Writing app descriptions, titles using researched keywords and proofreading content
Update existing content to include more keywords.
Research keyword trends as per industry norms
SEO / ASO Requirements:
Knowledge of SEO / ASO practices.
Familiarity with Google Analytics and other analytic tools.
Excellent written communication skills.
Ability to multitask
A strong understanding of Keyword research
Proven knowledge of mobile platforms and technologies
An excellent understanding of the different App stores and their processes
Proficiency in additional languages – strong advantage
Excellent analytical skills
High proficiency in Excel
Organized, creative and detail oriented
An avid smartphone user who is passionate about the mobile world
Detail oriented, multi tasker
Creative and technical mindset
SMO Role & Responsibilities - 2
Developing engaging social media strategies.
Managing social media platforms of the organization.
Scheduling social media posts.
Engaging followers with regular company updates.
Creating brand awareness to gain audience attention.
Responding to the comments on social media on time.
Creating paid social media campaigns for advertising.
Monitoring social media metrics and ROI.
Analyzing social media trends.
How You Will Benefit
Chance to make an impact in the lives of millions of students
Growth in a fast-paced environment
A steep learning curve, working with some of the brightest minds in Education & Tech
Great office vibe, with supportive and positive colleagues
Contact Details

Send your resume to
:
pranay@vidyakul.com / kamal@vidyakul.com
whatsapp
:
+91-9998249997 / +91-9899169815
About Vidyakul
:
https://youtu.be/m0c_lTS7meg
About our Founder
:
https://youtu.be/AEQXD7NZAJU
Funding announcement -
:
https://www.entrepreneur.com/en-in/news-and-trends/vidyakul-closes-inr-1 2-crore-in-pre-series-a-round/431226
Vidyakul covered by Forbes -
:
https://www.forbesindia.com/article/2022-edtech-special/can-vernacular-e dtech-become-mainstream/77701/1
Hiring for Multiple Positions in Digital Marketing at Vidyakul Gurgaon
Click Here for More Jobs in Digital Marketing - SEO SMO PPC Google Adwords Wordpress