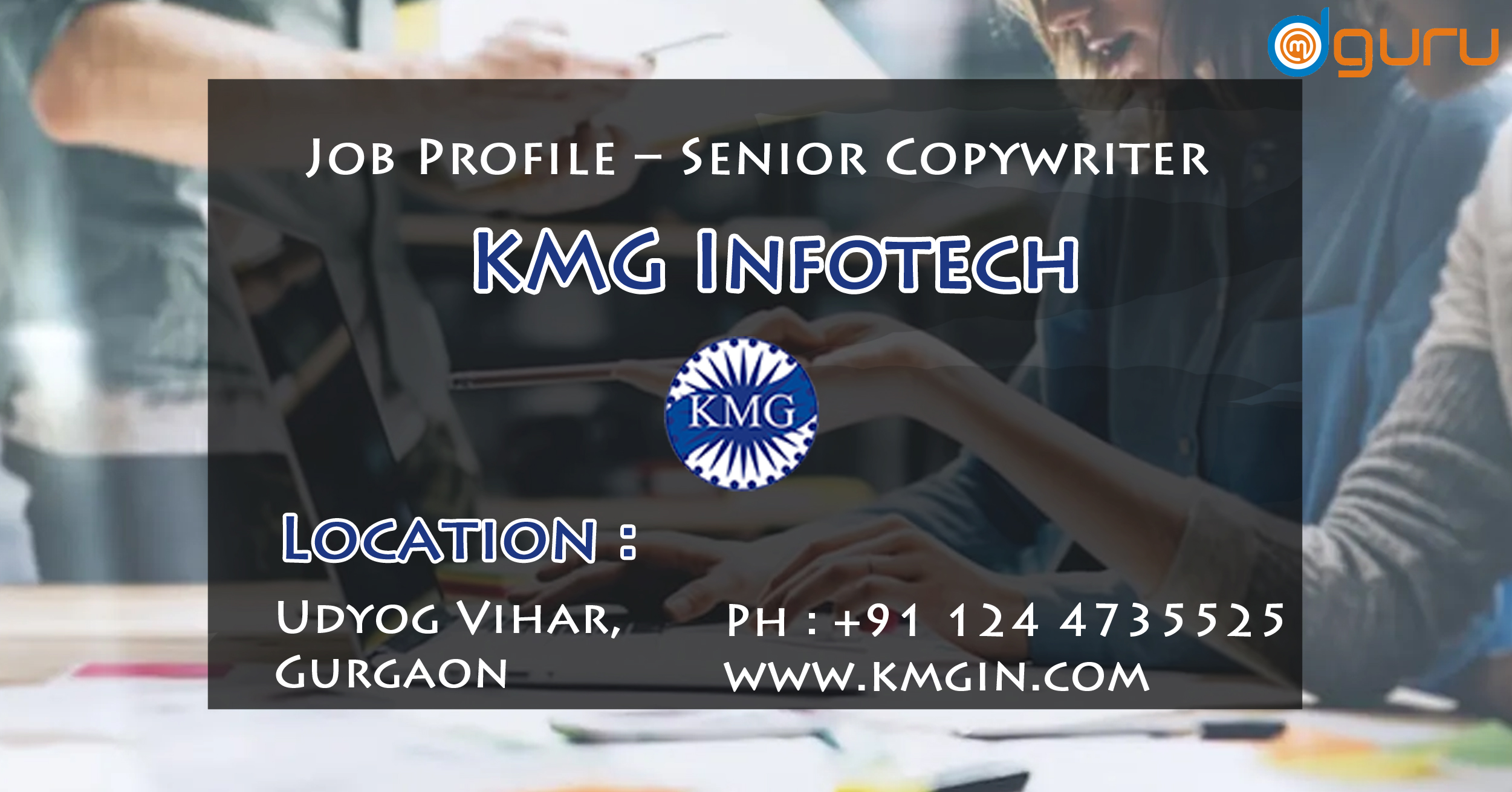 About Company: KMG Infotech
KMG Infotech Ltd (or Key Management Group Inc.) is a software services & consulting company engaged in providing integrated IT solutions to global insurance, Healthcare,banking & financial services companies. KMG has a special niche in Healthcare & Property & Casualty (P&C) insurance sector. KMG has established brand equity in the Insurance domain through the range of services provided to its client base and the domain knowledge of its professionals.
As a leading global software development company, KMG provides premium IT solutions using AS/400, Mainframe, Java & Microsoft technologies. In a wide-open sea of countless software development companies, KMG distinguishes itself as a company driven by excellence.
KMG's USA office is located in Melville in New York, USA. KMG has software development centers in India- Gurgaon, Kolkata.
Job Purpose
We are looking for the Copywriter who can connect with our customer base through multiple channels. In this role, you'll be responsible for creating marketing materials, product descriptions and direct email. We are looking for a candidate who is creative, innovative and able to easily adapt to rapid changes in consumer preferences. The ideal candidate will be comfortable working in a collaborative environment and using data to make marketing decisions. We are focused on providing a best-in-class customer experience, and you will have a significant role in helping us achieve that goal.
Location:
Experience :
Essential Skills
Excellent communication skills
Leadership qualities
Strong teamwork and interpersonal skills
Ability to manage multiple priority projects
Job Responsibilities
Writing clear, compelling copy for various mediums (e.g. ads, blog posts, mailers, newsletters)
Working with creative professionals to build marketing projects and campaigns
Write clear, attractive copy with a distinct voice
Collaborate with designers, PR and other professionals on large- and small-scale marketing projects (e.g. email campaigns and landing pages)
Edit and proofread copy as needed
Source images and other content
Educational Requirements
BSc/BA in Marketing, English, Journalism or related field
Regards,
Vartika Sharma
HR & Recruitment
Key Management Group / KMG Infotech Limited
US : 125 Baylis Rd, Suite 260, Melville NY 11747
IN : 262 Udyog Vihar Phase IV, Gurgaon (Haryana) – 122015
Ph : +91 124 4735525
www.kmgin.com , www.kmgus.com
Senior Copywriter Vacancy at KMG (Key Management Group) Infotech Gurgaon
Click Here for More Jobs in Digital Marketing - SEO SMO PPC Google Adwords Wordpress