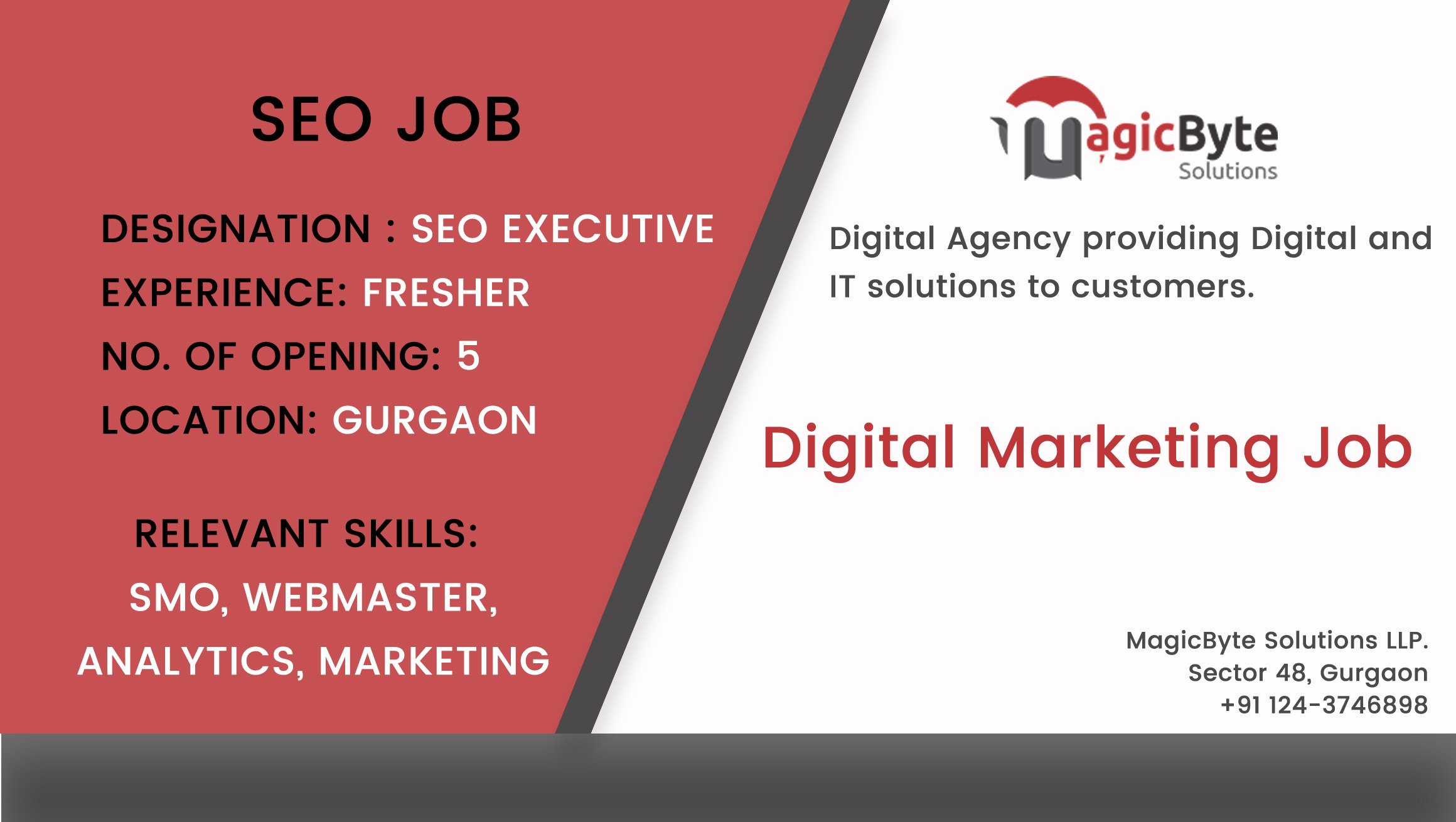 About Us:
MagicByte Solutions LLP, based in India has global offices in U.S.A., Australia and India is Digital Agency providing Digital and IT solutions to customers. It's providing its wide range of services to varying industries operating in different verticals ranging from education, oil & gas, insurance, healthcare, pharmacy, retail, high tech, supply chain, finance, automotive and others. Our core specialization includes Website Design and Development, SEO, SEM, SMO, PPC, App Development, App Optimization, ORM & Graphic Design. Our IT technologies expertise team helps in building and managing the complete IT business solution needed, starting from have a one on one session with our experts, understanding clients' needs and delivering them expected solutions in specified time.
Visit us on: https://www.magicbytesolutions.com
Job Description
Looking for freshers with relevant knowledge and skills. The person in role will be responsible for managing and taking care of all SEO activities.
Responsibilities
Conducting on-site and off-site analysis and recommendations in coordination with elements and structure of websites and web pages. Providing analysis for your clients' SEO competitors
Creating meta tags, alt tags and header tags. Optimizing the whole website as per major search engine's best practices
Work with website to add various kinds of tags and making minor changes in the websites
Using programs such as Google Analytics, Funnels and search console to compile regular performance reports
Assisting the content team in the creation of high quality, informative SEO content
The creation of on-site and off-site SEO strategies for clients in various industries
Carrying out detailed keyword research according to the latest keyword strategies
Keeping up to date with the most recent developments in Search Engine Marketing (SEM)
Paying particular attention to any significant Google algorithmic changes. Implement and administer search engine programs (XML sitemaps, robots file, webmaster tools)
Define requirements, tasks, and resources associated to SEO strategy and other digital marketing practices along with managing, executing, and implementing them
Communication to sales, team, and management on strategy/project development, timelines, and results
Keep pace with SEO, search engine, social media, internet marketing, and other digital marketing industry trends and development
Perform keyword research in coordination with client business objectives to optimize existing content and uncover new opportunities
Provide SEO analysis and recommendations in coordination with elements and structure of websites and web pages
Provide recommendations and execute/manage strategies for content development in coordination with SEO goals general and keyword specific
Help to create and support marketing content to socialize and use for social media purposes (e.g. customer videos briefs, customer case studies, blog posts, posts from analysts and customers)
Develop and implement link building campaigns
Monitor and evaluate web analytics dashboards and reports in order to develop and recommend SEO strategies
Strong understanding / experience of SEO process - On Page & Off Page
Experience in Google Analytics & Google Webmaster Tools
Good exposure to Social Media & Content Marketing
Knowledge and exposure of PPC required
Experience in setting up and optimizing Google AdWords campaigns
Reviews inbound campaign requests and reviews prioritization based on strategic value, business objectives, etc.
Works in conjunction with other marketing point-of-contacts (e.g. social media, web, events) to ensure all project deliverables adhere to standards and branding guidelines
Monitors consistent execution of campaigns across the business platform/group
Enforce modern marketing principles, drive best practices and ensure that all campaigns adhere to established guidelines
Key Skills/Experience
- Digital Marketing,
- SEO-search engine optimization
- Internet marketing
- Google Analytics
- Webmaster
- Marketing Strategy
- Marketing Campaign Management
- Permission Marketing
- Campaign Analytics
- SMO
Other Details
No. of Opening: 5
Designation: SEO Executive
Joining: Immediate
Location: Gurgaon
Salary: 10-15 K
Shift Timing: Should be open for any shift (24*7)
Meals: Provided (One time)
Working Days: 5 days working
Qualification: Tech graduates with MCA/MBA B. Tech/M. Tech in Comp. Sc./IT/ECE with MBA (regular) would be preferred.
For further queries, please contact:
Bhumija Singh
Human Resource
9643577229

MagicByte Solutions LLP.
Unit 304, 3rd Floor,
Welldone Tech Park,
Sohna Road, Sector 48,
Gurugram, H. R. - 122001
SEO Executive Job at MagicByte Solutions LLP Limited Gurgaon
Click Here for More Jobs in Digital Marketing - SEO SMO PPC Google Adwords Wordpress