SMO & Content Requirement For Cosmodent India | 27-11-2023 Update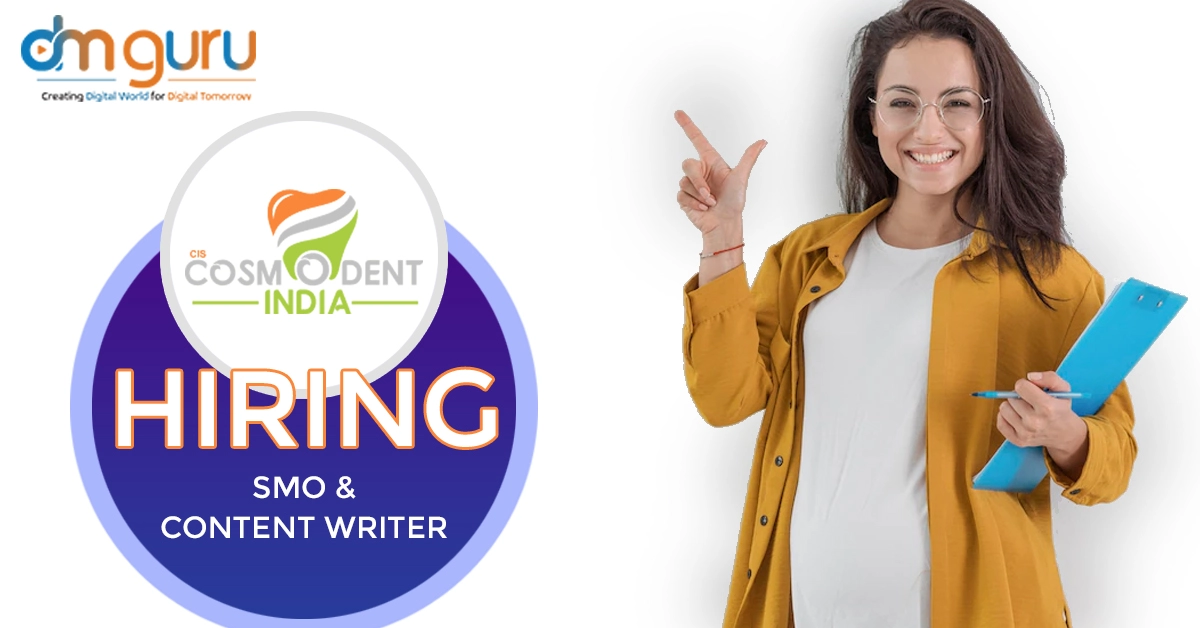 | | | |
| --- | --- | --- |
| Profile | : | SMO & Content Writer |
| Hiring Company | : | Cosmodent India |
| Job Location | : | 548-SP, Sector 39, Near Medanta Hospital, Gurugram |
| Experience | : | Intern |
About Company
Cosmodent is a leading dental implant and oral healthcare clinic in India. With ultra-modern facilities, we have earned a name in the dental implant and cosmetic dentistry arena globally. Our team of experts come cater to different specializations that are aimed at providing you with high quality dental solutions any time, anywhere.
Doing content planning and posting in different social media platforms
Facebook
Twitter
Instagram
Youtube
Linkdin
Pintrest
Website
Content required has to be completely plagiarism free and unique
Following will be required on a monthly basis.
Website Monthly task
10 blogs 700 - 1000 words each.
7 blogs on trending topics that will be shared with you.
3 blogs of case study portraying story of real patients and how dental implants or other treatment done at cosmodent india changed their life
Web New Pages Content 5 pages
Web pages content should be at least 1000 words.
700 for content and a few faqs for the same topic in 300 words.
Adequate Vedios should be linked to that page
Image should be optimized
Faqs on page must
5 Exsisting webpages content to be Revamp
Old existing content to be revamped monthly 5 pages
adequate optimised image should be there
Adequate Vedios should be linked to that page
2 videos on each pageshould be selected
faqs at the end of the page
Social Media Monthly Task
Instagram/Facebook post & reel description and heading
Small description of captions of post of instagram and reels maximum 100 words
Daily one post maximum limit of 200 words
Daily 4-5 instagram stories.
10 reels to be posted on monthly basis
Adequate hashtags research should be there to ind best hashtag.
Quora answers 10
Topics and questions will be given in advance
Adequate images and youtube videos should be linked with the answers
10 Video description of 200-500words for youtube
Adequate training videos will be given as to what content has to be written for the videos.
Keyword placement is the most important skill. Writers should be aware of the importance of keywords and strategic placement of keywords in the content without stuffing.
NOTE-
Each work will be checked by Dr.komal Nebhnani and corrections will be provided in a whatsapp group in the form of voice message.
Excel sheet of topics and keywords will be shared in the month beginning
Writer should be aware of importance of keywords and shall be able to extract new keywords from software-ubersuggest for which training will be provided
Relevant samples will also be shared along with web pages
Every content should have different tonality

Eg- cosmetic dental treatment and invisalign done by youngsters should have modern and trendy tonality

Eg- people looking for implants tonality should be serious to the point and focusing on best technology not trends.

We have a monthly budget of …../-rs for the above mentioned work, work with corrections have to be completed before the last working day of every month and compiled in a google sheet. Salary would be transferred to the writers account before 7 th working day of next month.
Contact Details

Name
:
DrAman Ahuja
Website
:
www.cosmodentindia.com
Interview Venue
:
548-SP, Sector 39, Near Medanta Hospital, Gurugram
Phone
:
+918588097530
SMO & Content Requirement For Cosmodent India
Click Here for More Jobs in Digital Marketing - SEO SMO PPC Google Adwords Wordpress