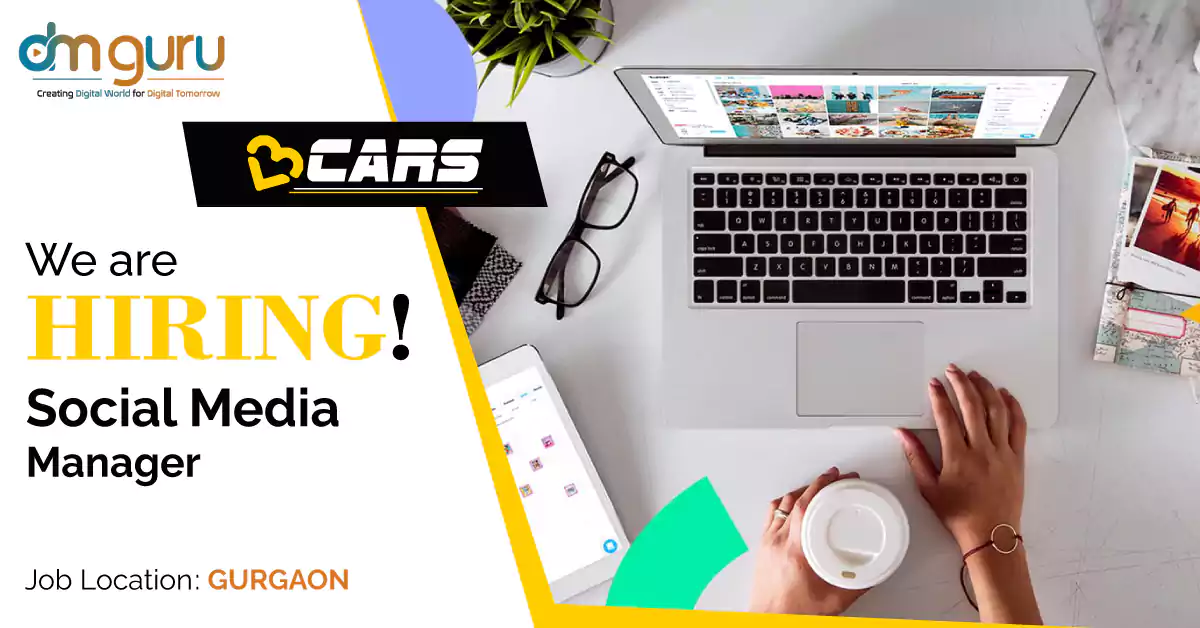 | | | |
| --- | --- | --- |
| Profile | : | Social Media Manager |
| Hiring Company | : | V3 Cars |
| Job Location | : | Delhi NCR; preferably Gurgaon. |
| Experience | : | 1 - 3 years in social media management |
| Package | : | ₹ 2.4L - 3.6L per annum |
| Job Type | : | Full time |
About V3Cars
At V3Cars, we are committed to help car buyers make an informed decision with ourwell-researched, objective and accurate conclusions. We are making an intelligent, data-driven car recommendation engine that will eliminate personal bias and externalinfluence when choosing a car. We will suggest the best car, down to the powertrain-variant combo, to suit the buyers' budget and feature preferences while prioritisingownership experience and value-for-money quotient.
What We do?
Decision Making Intelligence for Car Buyers
What are we going to do?
The V3Cars platform will bring together the best of applied data science and socialscience to help car buyers make an informed decision that satisfies the head and theheart. We are building a platform that can evaluate all cars and their variants on thebasis of the value they offer at a certain price point. The tool will be able to analysemultiple cars and variants on the basis of segment, size, engine specs and other features.
Job brief
We are looking for a Social Media Manager who can enhance our brand and build strong online communities through our various social media platforms. The Social Media Manager will be responsible for developing and administering social media content that is designed to engage users and create an interactive relationship between consumers and the company.
The successful candidate will also be required to collect and review social media data to develop more effective campaigns. The candidate should strike a delicate balance between publishing frequent outputs and maintaining consumers' interest. A top-notch social media manager will be knowledgeable about the best posting times for each social media platform.
Roles and Responsibilities
Work closely with the marketing team to develop social media campaigns that help to achieve our marketing goals
Analyze the long-term needs of the company's social media strategy and offer quarterly reports to the management and executive teams that outline any necessary changes to the digital marketing plan
Develop monthly reports on emerging social media trends.
Monitor the company's social media accounts and offer constructive interaction with users
Create methods for finding and saving online customer reviews
Training and supervising social media executives.
Maintaining a secure database of all login credentials.
Requirements
Bachelor's Degree in Marketing, Communications or related field
Expert knowledge of all leading social media sites, including their algorithms.
Able to explain complex social media data in an understandable way
Strong problem solving skills
Knowledge of Instagram, Facebook, Twitter, Linkedin & Youtube's platform is required
Knowledge of pertinent engagement metrics.
Appreciation for novel insights and ideas.
Willingness to work occasional overtime.
Contact Details

Name
:
Sandeep Sharma
Contact
:
9711988352
Location
:
Delhi NCR; preferably Gurgaon.
Social Media Manager at V3 Cars Delhi NCR, Gurgaon
Click Here for More Jobs in Digital Marketing - SEO SMO PPC Google Adwords Wordpress